Jānis will personally create your Fine Art Pint. His goal: share a hand-clapping-at-sunset joy and child-like wonder of living on this planet.
As for quality: French-based Gourmand named Jānis one of the top two wine photographers in North America. He has won arm-fulls of awards, including Gold Medal for Best Regional Book in North America and Best in the World from China.
While you can order prints of any image from all of Janis's websites and publications, he has assembled some very special collections designed specifically for prints.
All the photographs in these collections are available as signed, limited-edition fine art prints. Please note Jānis will only create 30 prints of an image in each size. After that, no additional prints will be available in that particular size.
While limited-edition fine art prints are available in the following sizes, custom sizes are available:
16x24
20x30
30x45
Fine Art Collections
Open Edition images are crafted to the highest quality but with no limit to quantity printed. (Click image to open selected collection.)
Janis has carefully chosen a select group of images for his Open Edition Fine Art Collection. They are printed on Premium Luster paper using archival inks. If you would like, Janis will sign your prints with an acid-free pen on the white border.
Open Edition Print sizes available
11x16 - 16x24 - 20x30 - 30x45 -
Sizes of individual image can vary slightly depending on camera used. Custom sizes available. Prices do not include shipping.
Limited Edition Fine Art Collections
Limited Edition Collections are not set up yet
For his Limited Edition Fine Art Collection, Janis has chosen images that harken back his drawing and painting studies with America's most renowned artists while earning a Master's Degree in Fine Arts. Each group of images is a series usually centered around a theme.
Depending on the image, most are printed on special watercolor paper using archival inks. After Janis creates each print, it is then titled, numbered and signed by Janis. A certificate of authenticity is provided with each print. Only 30 plus 4 artist's proofs of each size will be made, then the file will be retired. This is especially important for art investors and collectors.
Limited Edition Print sizes available
11x16 16x24 20x30 Sizes of an individual image can vary slightly depending on camera used. Custom sizes available. Please call or email for current pricing.
To Purchase Prints
Please contact the Janis's Art Studio to verify current edition availability, prices and ordering.
Every effort will be made to promptly process orders, usually within a week. However, if Janis is traveling, print orders can take up to a month. Shipping is extra.
While the commerce portion of the site is being built, please call or email Janis directly to order a print: janis@jmiglavs.com 503-804-6080
Choosing the Right Size, Lighting and Framing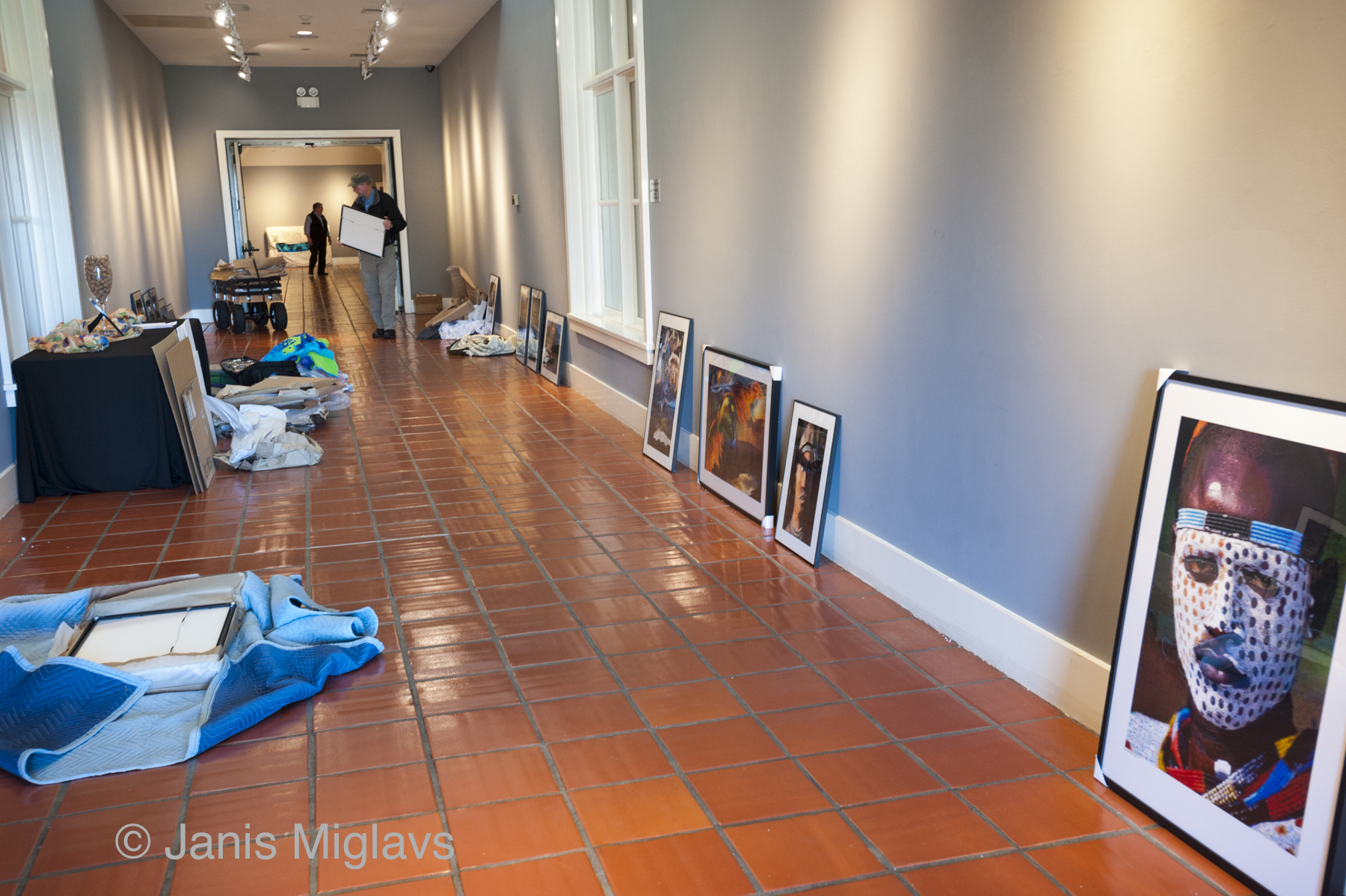 While 11x16 might sound like a large print, once it is hung in your home, chances are it will look at least one standard size smaller. The smallest print in this installation—a 16x24—looks so tiny.
Janis suggests using a yard stick to rough out sizes in the area you will hang your prints. Better yet, cut out a piece of cardboard to the desired dimension, then hold it in place to see if the size you are choosing will be large enough. You will likely be surprised how small a 16x24 looks on your wall.
Shipping framed photographs is not only expensive but dangerous. That's why Janis prefers to ship your prints rolled in a thick shipping tube. Then your framer can frame the prints to your liking.
Traditionally photographs are mounted on some acid-free substrate and then mounted as they are here in Senator Mark Haas's state capitol office.
(Also note Janis's Oregon The Taste of Wine book peeking in the lower right on the Senator's desk.)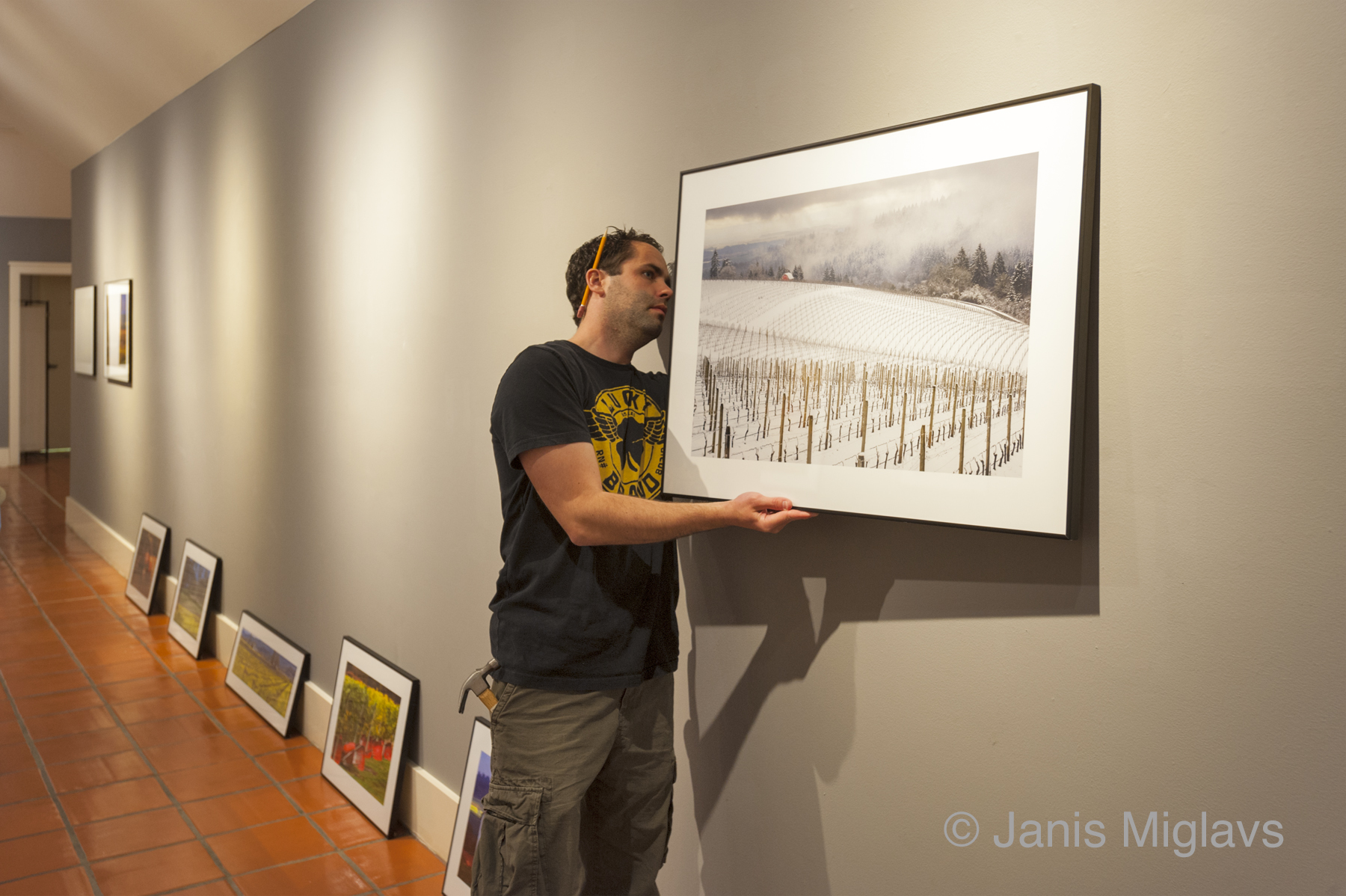 For his gallery shows as well as many home and corporate installations, Janis prints the fine art images with a 3 inch white border. This gives the appearance of a matted photograph. Janis can do this for your prints for a nominal charge.
Care should be taken, as with any piece of fine art, not to expose the image to high levels of moisture or sunlight. The print should be treated as a quality fine art watercolor painting.
Choosing a location having normal humidity levels and minimum exposure to ultra violet light will provide many years of pleasurable viewing. Research shows that under normal display conditions, your print will last 75-100 years.